Join The 1% Who Learn From Guinness Record Holders
Achieve Greatness with World-Record Holders as Your Mentors
All our instructors hold Guinness world records, providing unmatched expertise and knowledge in their respective fields
Our courses offer exclusive content and a unique approach to learning. Our Guinness record holders provide a one-of-a-kind learning experience
All our courses include live training sessions with our record holders, providing a personalized and interactive learning experience
Learning Genius isn't just a learning platform; it's a community. Users join a network of ambitious, driven individuals, fostering an environment shared growth.
Meet our Guinness Record Holders
Learn more about our world-class instructors,
Get ready to be inspired and learn from the best.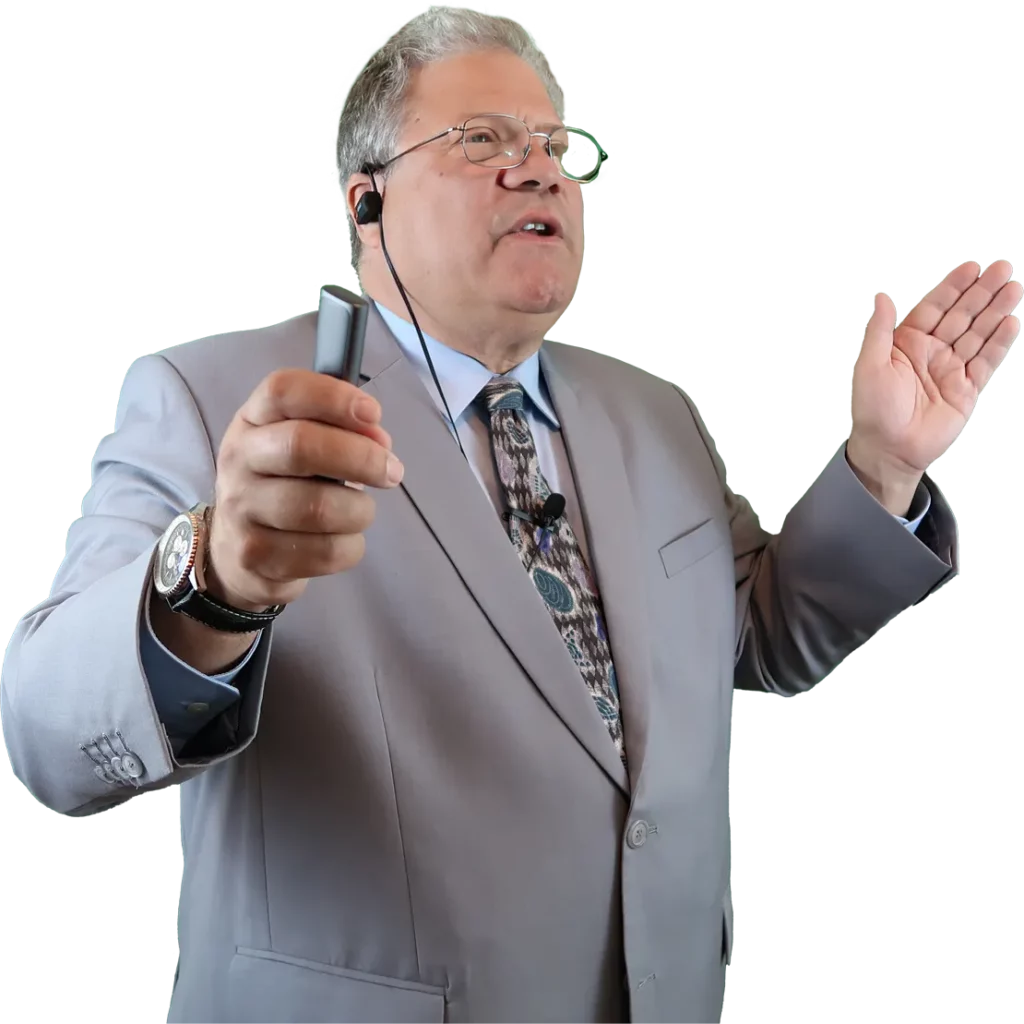 Howard Berg of Brooklyn, NY, USA, can read 80 pages per minute (25,000 words). Howard's reading record is published in the 1990 Guinness book of world records. Howard has performed this feat live on national television along with recall.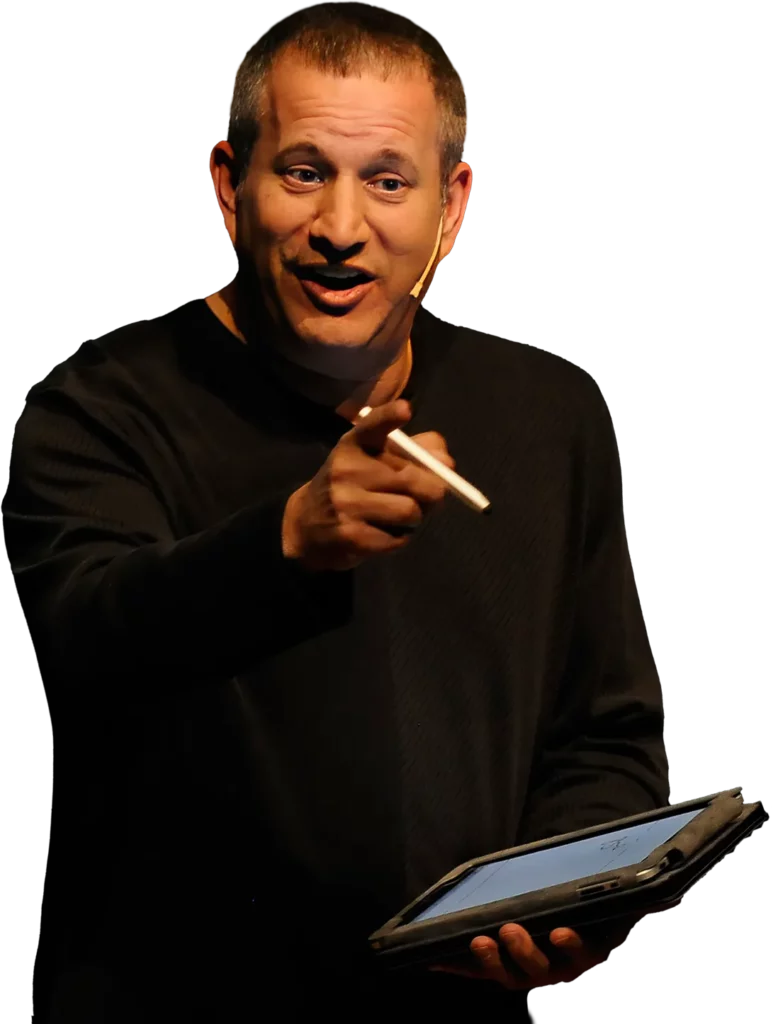 Scott Flansburg of Phoenix, Arizona, USA, correctly added a randomly selected two-digit number (38) to itself 36 times in 15 seconds without the use of a calculator on 27 April 2000 on the set of Guinness World Records in Wembley, UK.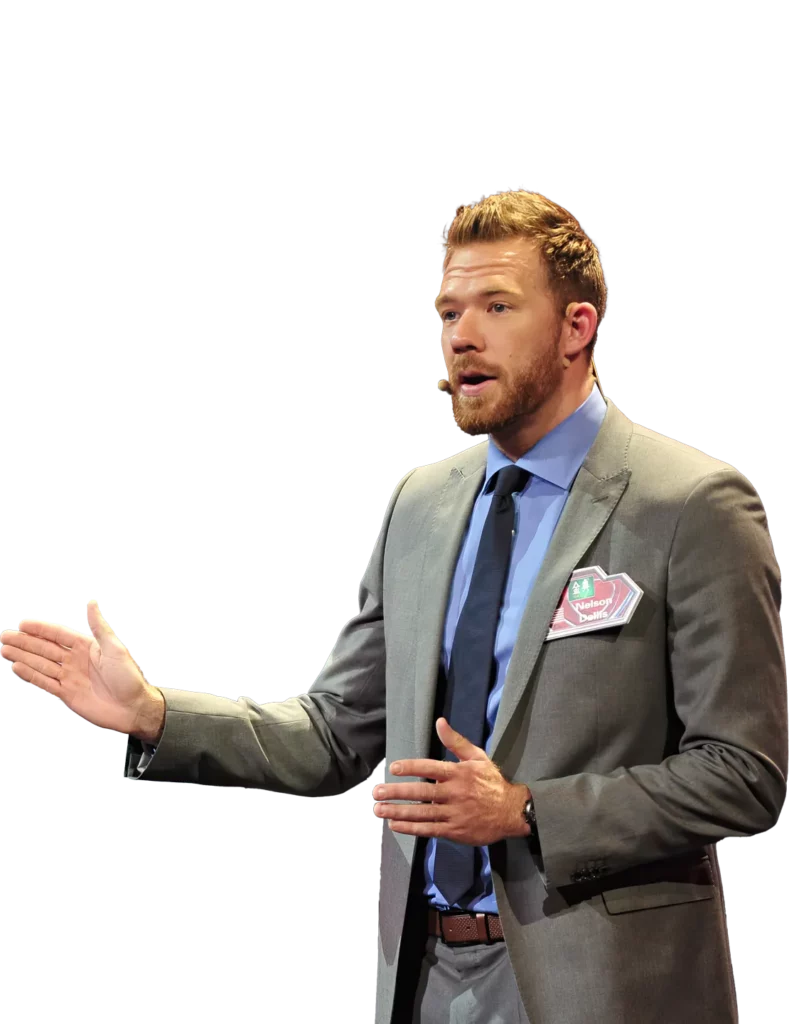 The fastest time to arrange a deck of playing cards memorised underwater is 2 min 22.53 sec and was achieved by Nelson Dellis (USA) in Miami, Florida, USA, on 13 November 2021.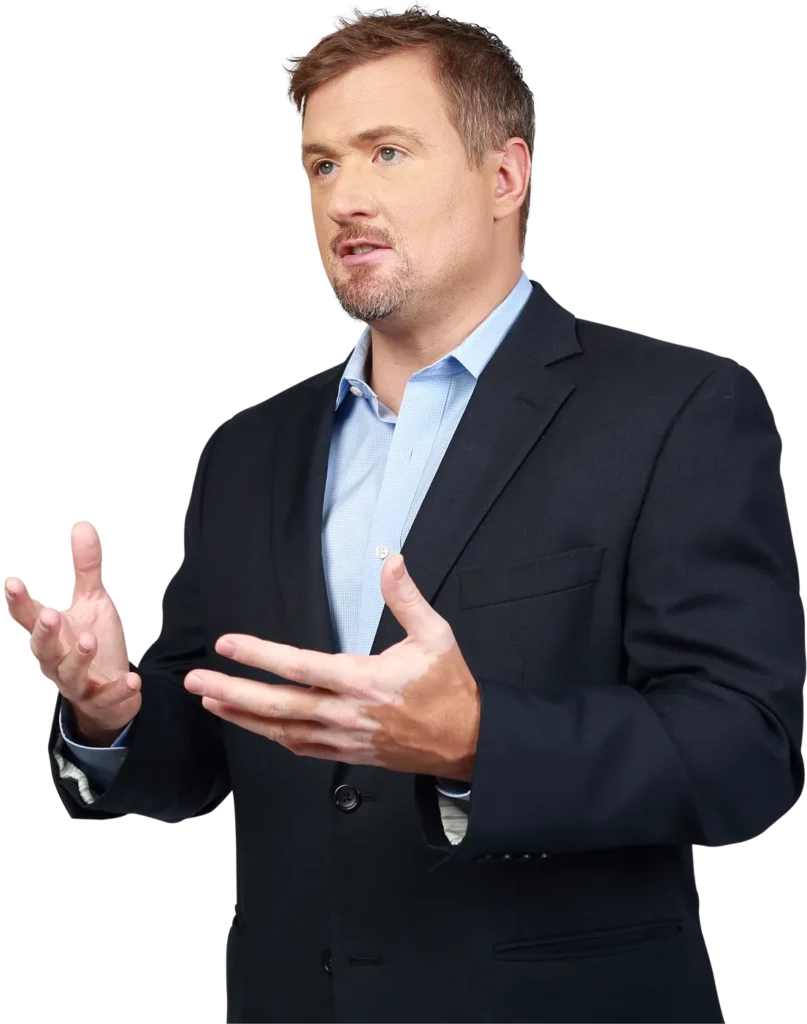 Dave Farrow (Canada) memorized on single sighting a random sequence of 59 separate packs of cards (3,068 cards) at CTV Studios, The Daily Planet, Toronto, Canada on 2 April 2007. The attempt took 4 hrs 58 min 20 secs not including breaks.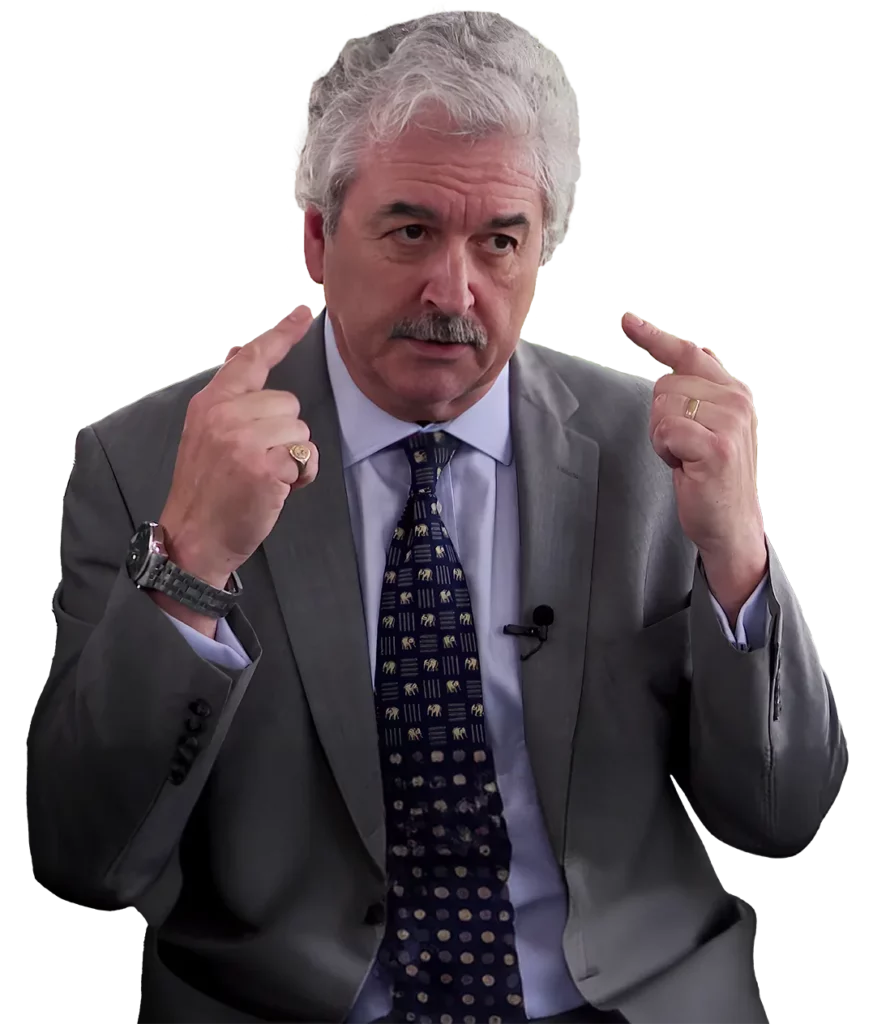 Dominic O'Brien is a British mnemonist. He is the eight-time world memory champion. He had an entry in the Guinness Book of Records for his 2002 feat of committing to memory a random sequence of 2808 playing cards (54 packs) after looking at each card only once.

How Learning Genius Works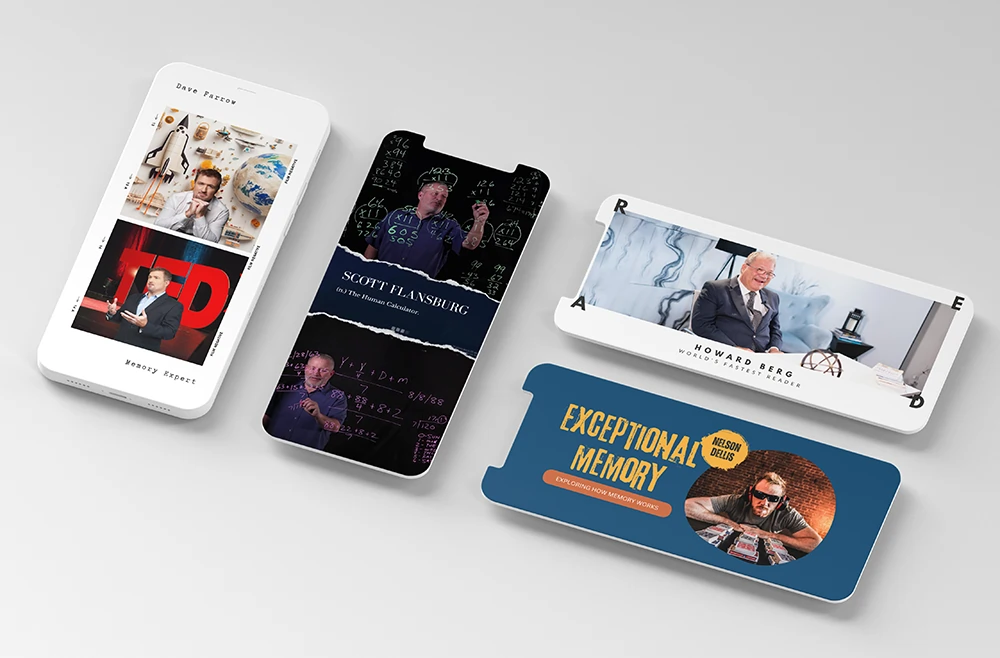 Learn from Guinness World Record holders
Explore the Finest Courses
Embark on a journey of discovery with courses taught by world-renowned experts.
Learn At Your Pace, At Your Level
Tailored for Your Needs: Professional, Student, and Kids Editions
Whatever your needs, we have the perfect program for you. From professionals seeking to upskill to students looking to learn new skills and parents searching for educational activities for their kids, we have it all.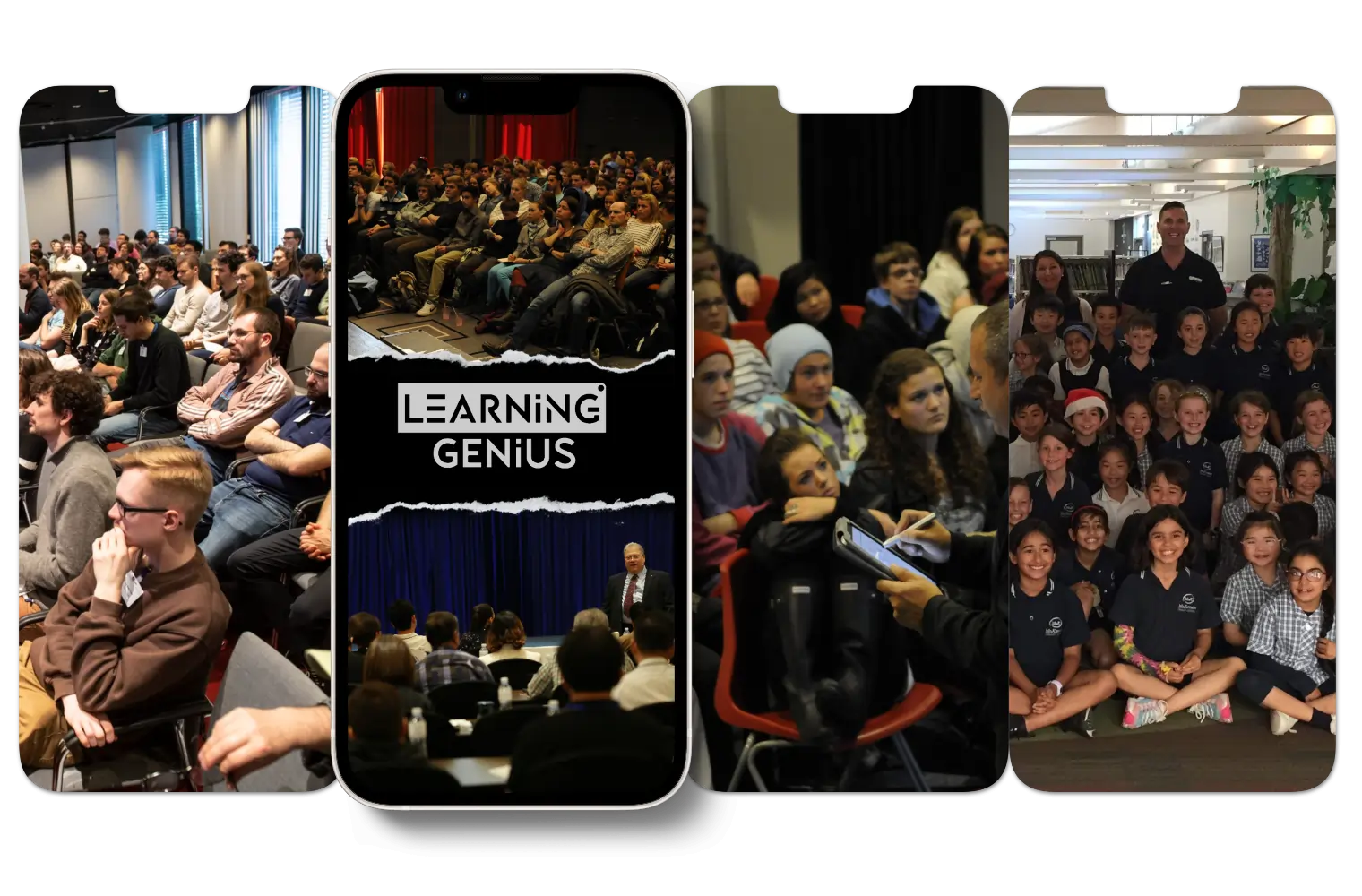 Accelerate Your Learning in Just 7 Weeks
Enhance your skills and take your knowledge to the next level.
Stay Ahead of the Curve:
Our Latest Courses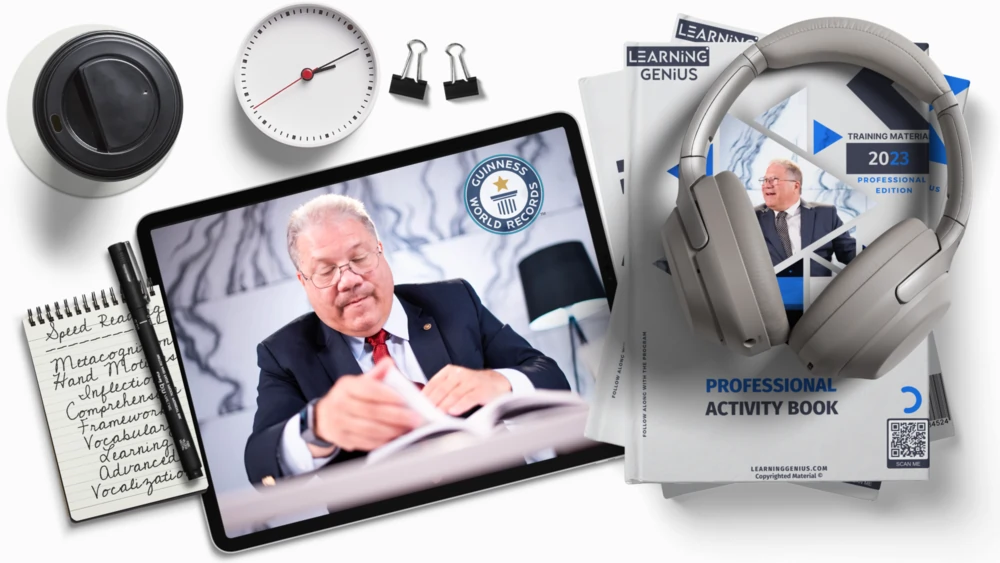 Read More and Remember More
Speed Reading Genius – Improve your Reading Speed by 300%
The World's Fastest Reader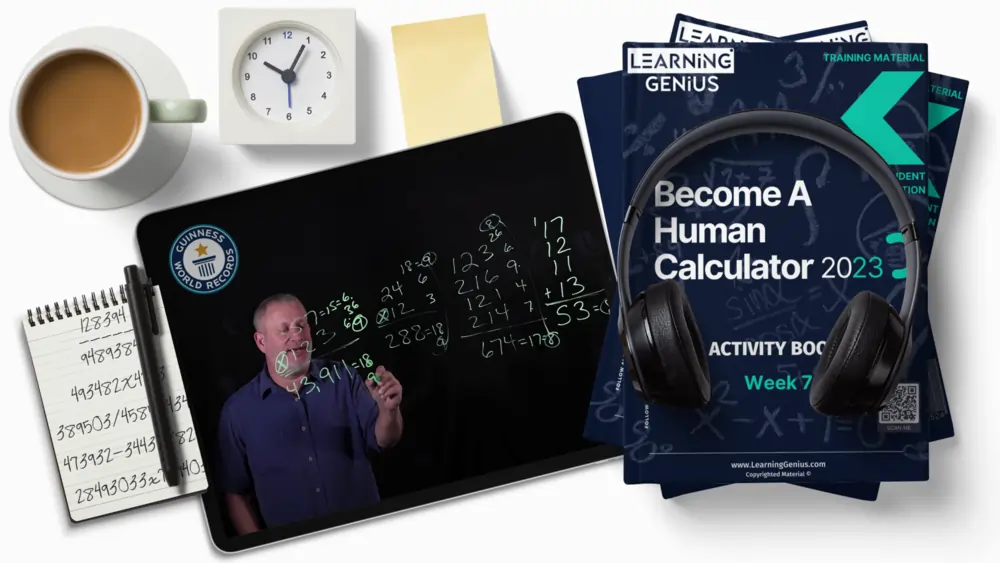 Ditch your Calculator! Become One
Human Calculator Course – Mental Math Training Course For Everyone
The Fastest Walking Human Calculator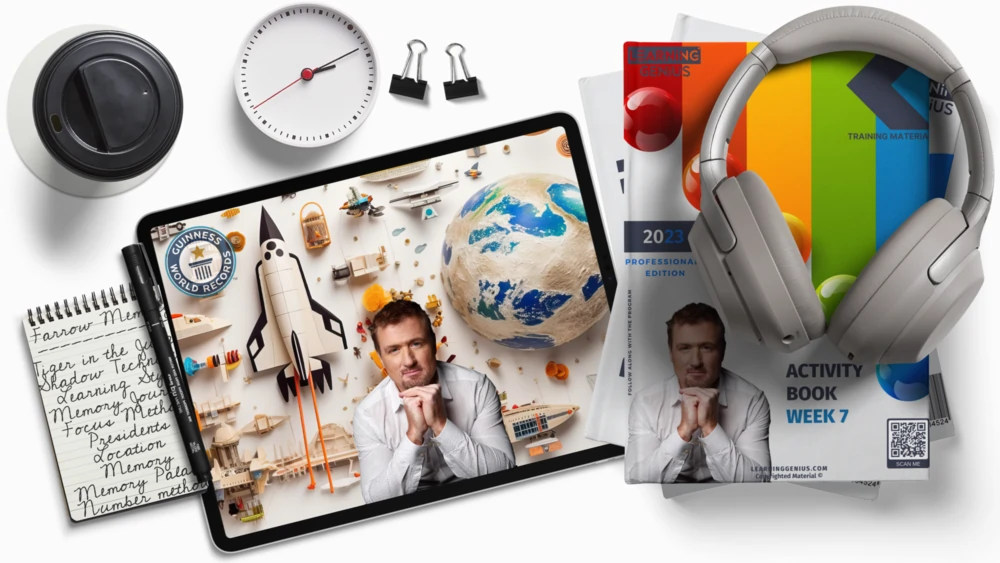 Unlock your Hidden Memory Potential
Farrow Memory - Activate Your Brain's Peak Potential
The Two Times Memory Champion ​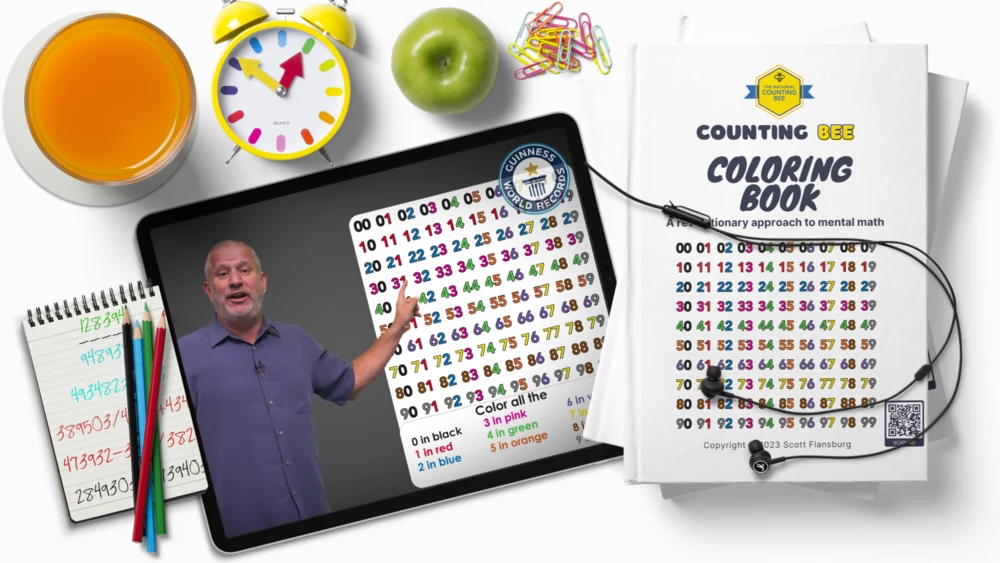 Colouring Book – Become a Math Wizard in Just 7 Weeks
The Fastest Walking Human Calculator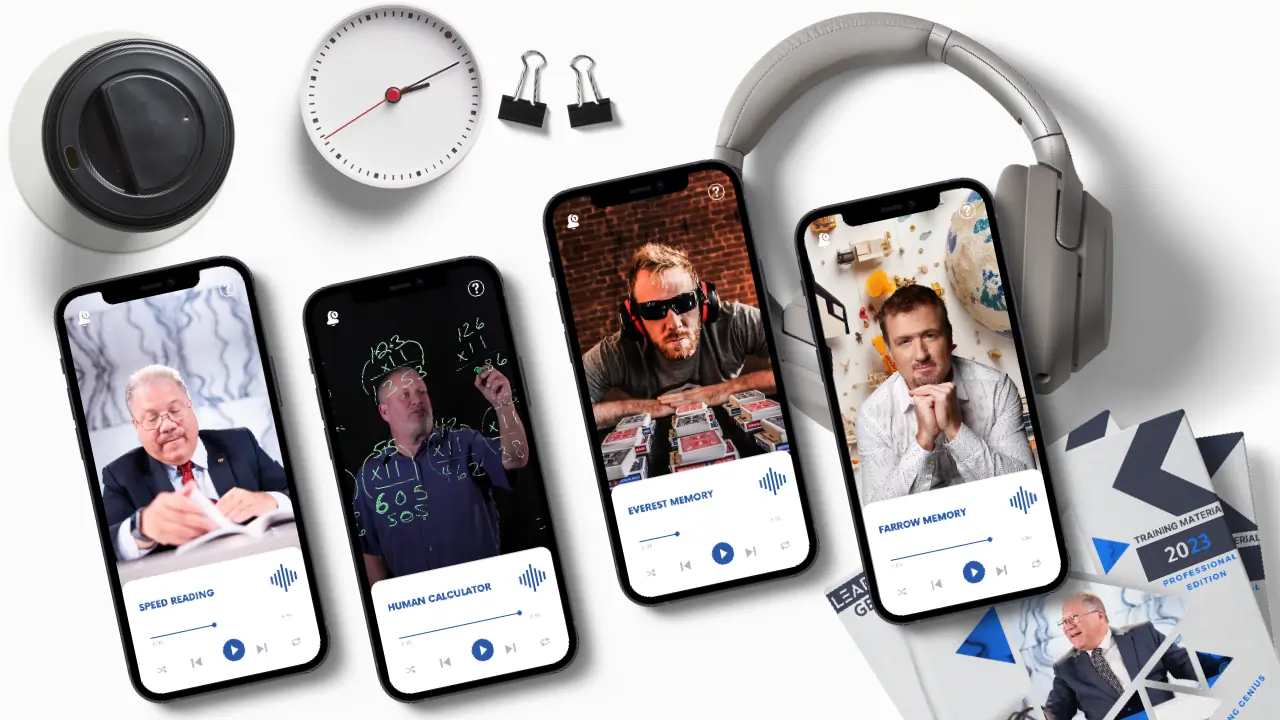 Unlock Your Peak Potential: The Ultimate Bundle for Top-Tier Executives
Pro Learning Bundle – Get Access to All the Courses

With All Genius Record Holders
Enroll Today And Witness Growth & Self-improvement ​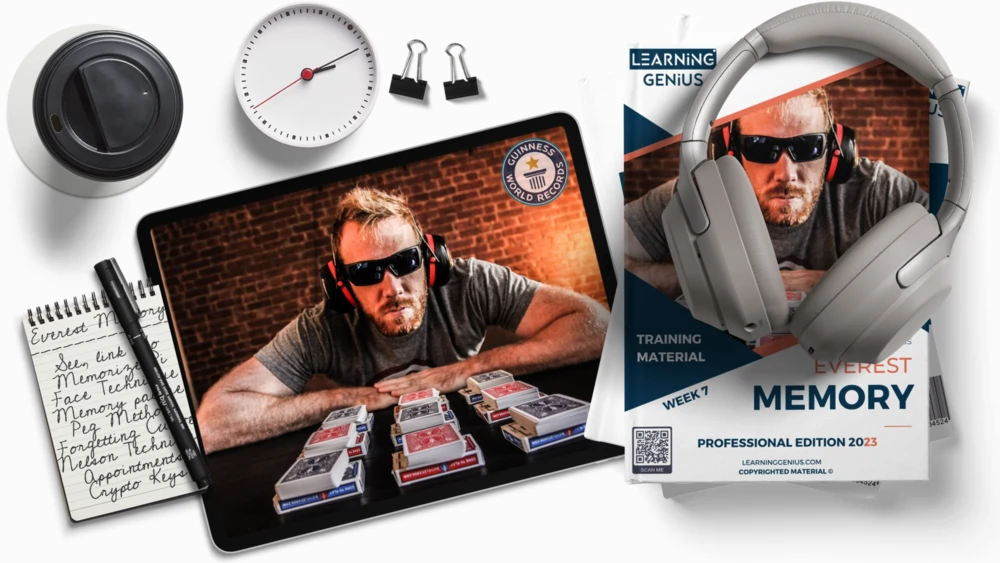 Double

Triple Your Memory
Everest Memory – Memorize and Remember anything you want to
The Five Times Memory Champion ​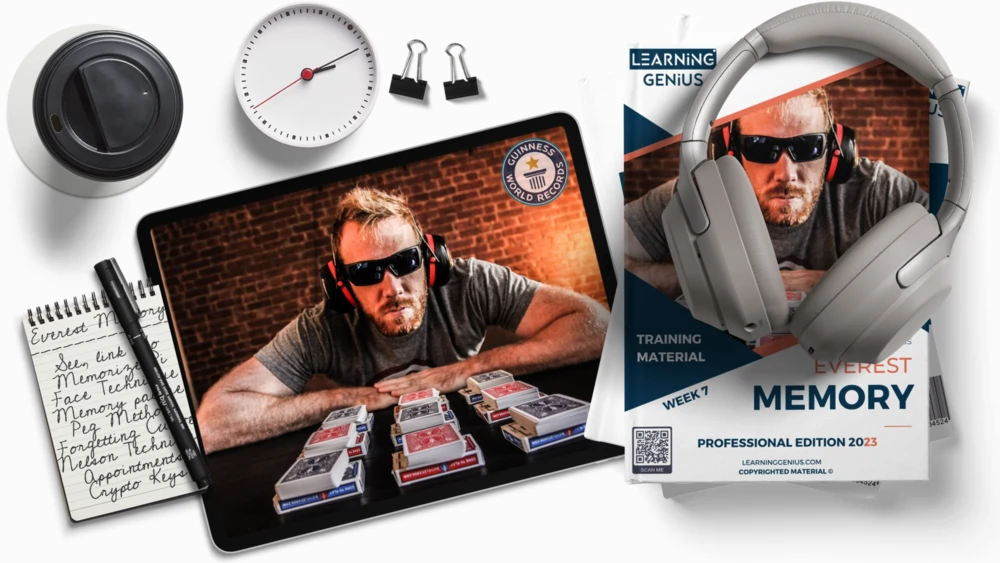 Double

Triple Your Memory
Everest Memory Course – Improve your Memory by 300%
The Five Times Memory Champion ​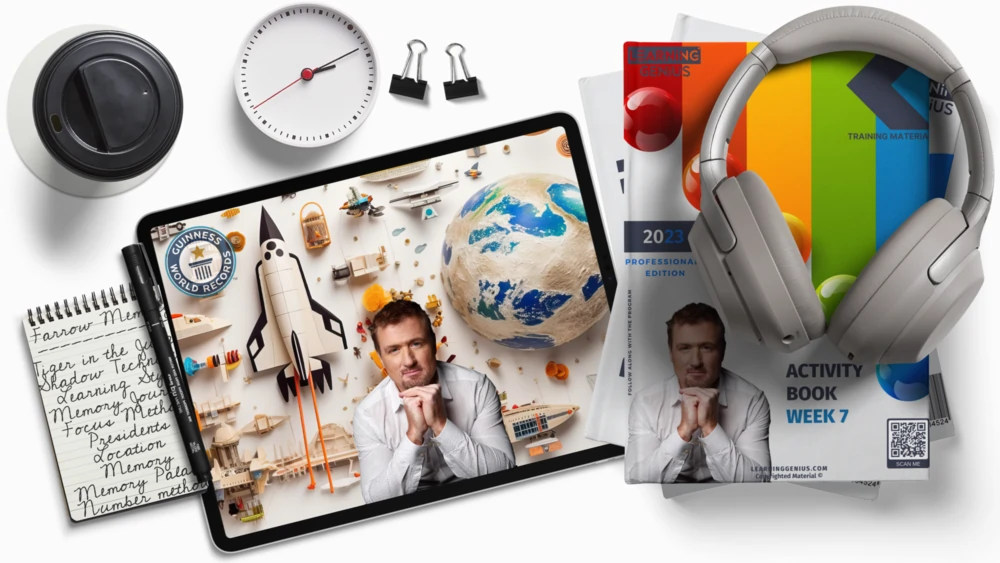 Unlock your Inner Photographic Memory
Farrow Memory - Activate Your Brain's Peak Potential
The Two Times Memory Champion ​
When I first heard about how fast Howard could read I thought …. whatever… but then I met Howard and he read my 300 page book in 5 minutes live on my show and I was truly amazed !!! I more than doubled my reading speed and improved my comprehension after taking his Speed Reading Genius program.
I decided to put Howard's claim to the test. Before the training, I was able to read at 280 WPM, and after completion of the course, I was able to read at 720 WPM. This is an awesome product, and I highly recommend it. I don't get paid anything for saying this. Even if you don't think you need to know how to read faster, DO IT.
Dave is such a dynamic and engaging speaker! Unquestionably, the material presented really resonated with our audience of real estate professionals who are constantly looking for expert advice for the purpose of increasing sales, branding and improving memory. Dave gave our team clear tips – and most importantly, actionable suggestions on how to implement these valuable strategies.
Every time I see Dave speak he has so much enthusiasm and energy in front of a crowd! He brought the wow factor to my event. His memory demonstration amazed the crowd so much I put him on twice! He is able to take dry material that may not appeal to the masses and make it fun!
Scott's approach to numbers and arithmetic is one of the most educational and entertaining programs we have had at our Mastery events
Scott has a mind blowing super power. He's the fastest human calculator in the world.
Become a part of our global community
Members from
127 Countries
Albania
Angola
Argentina
Armenia
Australia
Austria
Bahamas
Bahrain
Barbados
Belarus
Belgium
Belize
Bolivia
Botswana
Brazil
Brunei
Bulgaria
Cameroon
Canada
Chad
Chile
China
Colombia
Costa Rica
Croatia
Cuba
Cyprus
Czech Republic
Denmark
Dominican Republic
Ecuador
Egypt
El Salvador
Estonia
Finland
France
Georgia
Germany
Ghana
Greece
Guatemala
Guyana
Honduras
Hong Kong
Hungary
Iceland
India
Indonesia
Iran
Iraq
Ireland
Israel
Italy
Ivory Coast
Jamaica
Japan
Jordan
Kazakhstan
Kenya
Korea
Kuwait
Laos
Lebanon
Libya
Lithuania
Luxembourg
Macedonia
Madagascar
Malaysia
Maldives
Malta
Mauritius
Mexico
Moldova
Monaco
Mongolia
Montenegro
Morocco
Namibia
Nepal
Netherlands
New Zealand
Nicaragua
Nigeria
Norway
Oman
Pakistan
Panama
Papua New Guinea
Paraguay
Peru
Philippines
Poland
Portugal
Qatar
Romania
Russian
Rwanda
Samoa
Saudi Arabia
Senegal
Serbia
Seychelles
Singapore
Slovakia
Slovenia
South Africa
Spain
Sri Lanka
Sweden
Switzerland
Thailand
Tonga
Trinidad and Tobago
Tunisia
Turkey
Uganda
Ukraine
United Arab Emirates
United Kingdom
United States of America
Uruguay
Venezuela
Vietnam
Yemen
Zambia
Zimbabwe